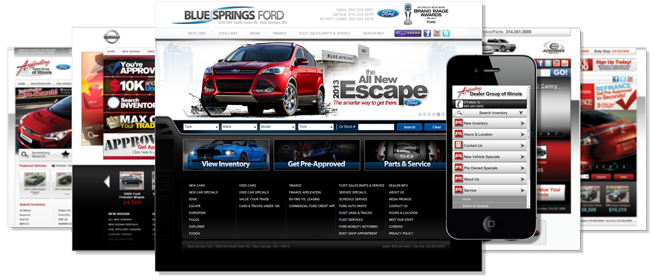 Dealer Websites Designed Specifically for Performance in Search
The BluSolutions dealer website platform was developed specifically for search engine performance. Our team of SEO (Search Engine Optimization) experts worked together with our team of designers and programmers to put together the most advanced SEO website platform on the planet! Our dealers benefit from the standard suite of SEO tools and features including: creative and dynamic site mapping, dynamic inventory SEO, search engine friendly URLs, vehicle model landing pages, advanced SEO override controls as well as the ability to edit SEO characteristics on every page and every resource throughout your website.
View Our Website Portfolio!
Dealer Websites Designed for Conversion
The framework for our dealer websites was built with the fundamentals of good conversion in mind. While each website has its own unique look and feel, these fundamental elements are always kept in place. This approach to website design has led to the industry's lowest average bounce rates, highest average time on site and highest average page views. The combination of great SEO performance and conversion minded design results in a dramatic increase of quality internet leads delivered. BluSolutions also offers a list of website add on products to further improve your website's conversion performance such as BluTalk Website Chat, Integrated Manufacturers' Incentive Data and many others!
BluSolutions Dealer Websites are search engine dominating, lead generating machines and a solid foundation for any dealer's online marketing strategy.
Here are some additional features to consider:
The Automotive Industry's Most Capable CMS Platform!
Creative & Dynamic Site Mapping(CMS)
Search Engine Dominating Inventory URLs
Dynamic Inventory SEO
Advanced SEO Control Panel
Banner Syndication Platform
Media Center
Events Center
Coupon Manager
Testimonials
and many more . . .
---
(* NOTE: Search results vary based on frequency of inventory turnover, number of pages indexed by the search engines, and other factors.)
30% off Dealer Website Package - Offer ends soon!
Fill out the form below to schedule an online demo and to lock in this month's special pricing offer on a Dealer Website Package!
Schedule Now!
---