Mobile Websites
Contact Sales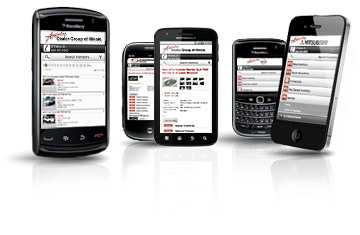 Has your Dealer Website Gone Mobile?
Did you know that mobile phone usage has grown so much that now one half of all searches are done using a mobile device? By subscribing to a BluSolutions content management (CMS) capable mobile website, your dealership can effectively adapt to the constant evolution in technology and shopping trends via the latest mobile devices.
Test Drive Our Mobile Site
Content Management Capable?
Yes. BluSolutions mobile websites are content management capable. What does this mean for you? It means that our mobile websites are driven by the same highly scalable, completely flexible, content management technology that drives our Dealer Websites. Dealers themselves can make changes to their mobile websites such as editing page content, updating SEO assets, swapping banners, and much more via the BluSolutions AppCenter™.
---
More Inventory Exposure = More Cars SOLD!
BluSolutions mobile websites perform just as well in organic search results as our Dealer Websites do. Our platform allows your mobile website pages to be indexed by search engines including your inventory detail pages! Want to see proof? Here it is:
THE RESULT? YOUR INVENTORY CAN SHOW UP TWICE IN SEARCH RESULTS!
BluSolutions Mobile Websites are the simplest and most revenue positive technology addition to any dealer's online marketing strategy.
Here are some additional features to consider:
Super Fast!
Content Management Capable (CMS)
Search Indexed Inventory
Compatible with iPhone, Blackberry, Android, and Palm Pre Mobile Browsers
Google Maps Integration
Click to Call
Calls to Action for Each Department
Contact Form Submissions
Ad Serving
and many more . . .
---