BluTalk
Contact Sales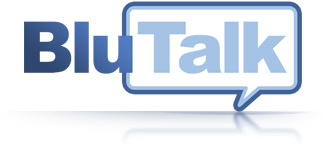 BluTalk is a customer live chat software solution for website support and sales that integrates with Google Talk and your instant messenger. It is unique among live chat software services as it incorporates features such as live visitor monitoring, live chat history, geo-ip tracking, and customizable chat windows, but routes all chats directly to each operator's Google Talk account. This means operators don't need any special software or training, they just login to Gmail or their IM client of choice and start accepting and responding to customer chat requests.
Web-based Software - No Installs
Chat with your customers from anywhere anytime. All you need is a web browser and a Gmail or Google Talk account. You can even respond from your mobile phone or any device that supports Google Talk. The BluTalk hosted service handles everything else.
Gmail and Google Talk Chat Integration
Instead of requiring users to download a separate software application for BluTalk live chat, we've integrated our service directly with Google. If you have a Gmail account, you can immediately start answering chat requests in Gmail, Google Talk, or any instant messenger that supports Google Talk such as iChat, Pidgin, or Adium. Therefore anyone in your organization can respond to customer questions whenever you (or they) like.
Mobile Phone Support for iPhone, BlackBerry, Palm Pre, and Android
Answer your live chats right from your mobile phone. You can chat anywhere where Google Talk is supported. This includes iPhone, BlackBerry, Android, and Palm Pre support. BluTalk goes where you go.
Live Visitor Monitoring
When you login to BluTalk we give you real-time information on website visitors including ip, country, time on the site, visitor footprint, and location on Google Maps. You can even initiate a direct chat request to any visitor on your site. Automatically request a chat after a given period of time.
Unmatched Customizability
BluTalk offers powerful customization that lets modify nearly every aspect of your client window. Customize the layout, font, and size of your customer facing chat window. Simply generate a code snippet and include it in your web page to get started. Upload your own logo and chat buttons for the ultimate branding.
Custom Online and Offline Buttons and Tabs
User our online and offline chat buttons, upload your own, or use Live Chat Tabs.
Skills Based and Department Based Chat Routing
Route live chats to specific agents based on department or topic. Just create a list of departments for your chat window, add operators to each department based on their skills, and you're ready to go. Visitors can select a department at the start of a chat and the chat requests will be routed only to operators assigned to those departments.
Chat History Search
Advanced prior chat history search by email, name, ip, or phone number. A search link is automatically sent in chat request invites to quickly search prior conversations with the visitor, view geo location on Google Maps, and view details browser information.
Multiple Language Support
BluTalk Live Chat supports multiple languages for both the chat window and operator interaction. Just choose the language you'd like your visitors to see when customizing your chat window. You can then customize the messages for your needs.
Chat Transfer Between Operators
Transfer chats real-time to other available operators right from your Instant Messenger window without interrupting the client chat.
CRM Integration
BluTalk chat by BluSolutions will send each chat transcript including visitor page history directly to your CRM in XML format.
Geo Location
IP Address geo-location of all new chat requests show up right in the invite. So you know where each visitor is chatting from. View the geo location of prior chat conversations as well as live site visitors.
Automatic Presence Detection and Routing
BluTalk automatically determines if an operator is logged into Google or not. So in addition to supporting operator schedules and office schedules, we won't route chats to operators who are offline or busy.
Unavailable Message Forms
BluTalk automatically checks the office schedule as well as each operator's schedule before routing requests. If no operators are available, the visitor can leave a message that will automatically be forwarded to your email address.
Support for Multiple Websites and Domains
Support as many chat windows as you like in each domain of your choice. Customize the look and brand for each domain so that you can manage many sites from one simple interface and from one Gmail account.
Click here to Contact Sales. BluSolutions appreciates your interest in our products and services. Thanks!
---